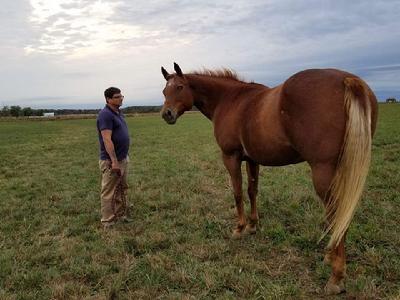 Bayley is an all around great horse--showing, parades, and trail riding.
Blaze is a fun trail horse--lots of pep in his step
Lease options at The Rustic Star
Do you love horses but are not in a position to own your own?
Leasing may be the perfect opportunity for you! We currently have a half lease available on Mokena, a Foundation Quarterhorse.
When leasing a horse at The Rustic Star, regardless of it being a full or half lease, the horse essential becomes "yours" on your agreed upon lease days without the long-term commitment of horse ownership. A full lease allows you access to your horse six days per week at any time of day or evening. A half lease allows you access to your horse three days per week. The cost of a full lease is $300 per month and a half lease is $175 per month. All tack is included when leasing a horse from The Rustic Star.
It's a lot like nuts and bolts - if the rider's nuts, the horse bolts! ~Nicholas Evans


We are horse families who love spending time doing things with our horses and our TRS horse friends!